Description
FANATIC Foilbard SUP Sky SUP Foil Windsurf 6'11 2022
FLOAT, FLOW, FLY
Size: 6'11
Discipline: SUP Foil / Wing Foil / Windsurf Foil
The Sky SUP Windsurf Edition is Fanatic's new swiss army knife of foiling sensations! Designed to maximise your fun – wether with a paddle, a Foil Wing or a Windsurfing rig in your hands!
Everything about the compact Sky SUP has been optimised to make it as easy as possible to get up onto the foil. The compact dimensions, thick bevelled rails and channel bottom give stability and al-low it to paddle and track straight and free; while the recessed deck and stance give great leverage and control over the foil.
This year designers boosted the performance with higher rocker, refined outline with narrower nose, and added a step tail to reduce drag when riding steeper waves and increase efficiency when pumping onto the foil.
The Sky SUP 6'11" Windsurf Edition comes with a mast track and additional footstrap inserts so it cannot only be used for SUP, Downwind and Wing Foiling, it's also great for Windsurf Foiling!
Features
Design is 100% optimised for foiling
Multi-Discipline: Ideal for SUP Foiling, SUP Downwinders, Wing Foiling and Windsurf Foiling
Special edition with mastrack and footstrap options for Windsurf Foiling
Step tail for efficient pump onto foil and freedom to ride steeper sections
Compact shape for stability and manoeuvrability
Pulled in nose and bevelled rails for neutral touch-downs, and to avoid catching in tight turns on the wave
Increased recessed deck shape for comfort and control when paddling, and more direct feel and control of the foil
Full deckpad with centreline bumper delivers grip, comfort and helps your foot locate the cen-treline when riding
Unique channel bottom shape for efficiency, soft landings and great tracking whilst paddling
Short length makes it easy to pump, control and transport
Track foil mount system allows for fine tuning
Carrying handle for ease
Supplied in VCT (Vector Net Technology)
---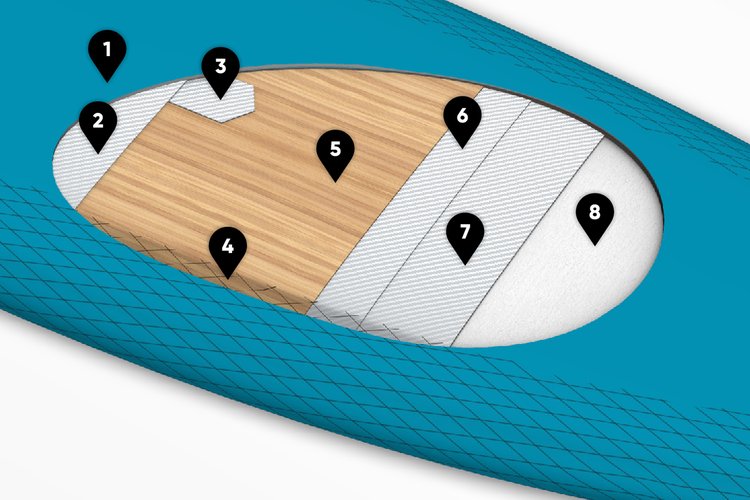 VCT: VECTOR NET TECHNOLOGY
Light finish and weight saving graphics
Ultra light fibre layer
Glass core stringer
Vector net rail frame
Extra strong Bamboo reinforcement (stance area)
Solid glass layer
Ultra light fibre layer
Super light EPS core
New Vector Net Technology – with it's stringer and bamboo wood reinforcements in key areas – ensures a great strength to weight ratio and comes with exceptional frame stability for a direct and responsive feel.